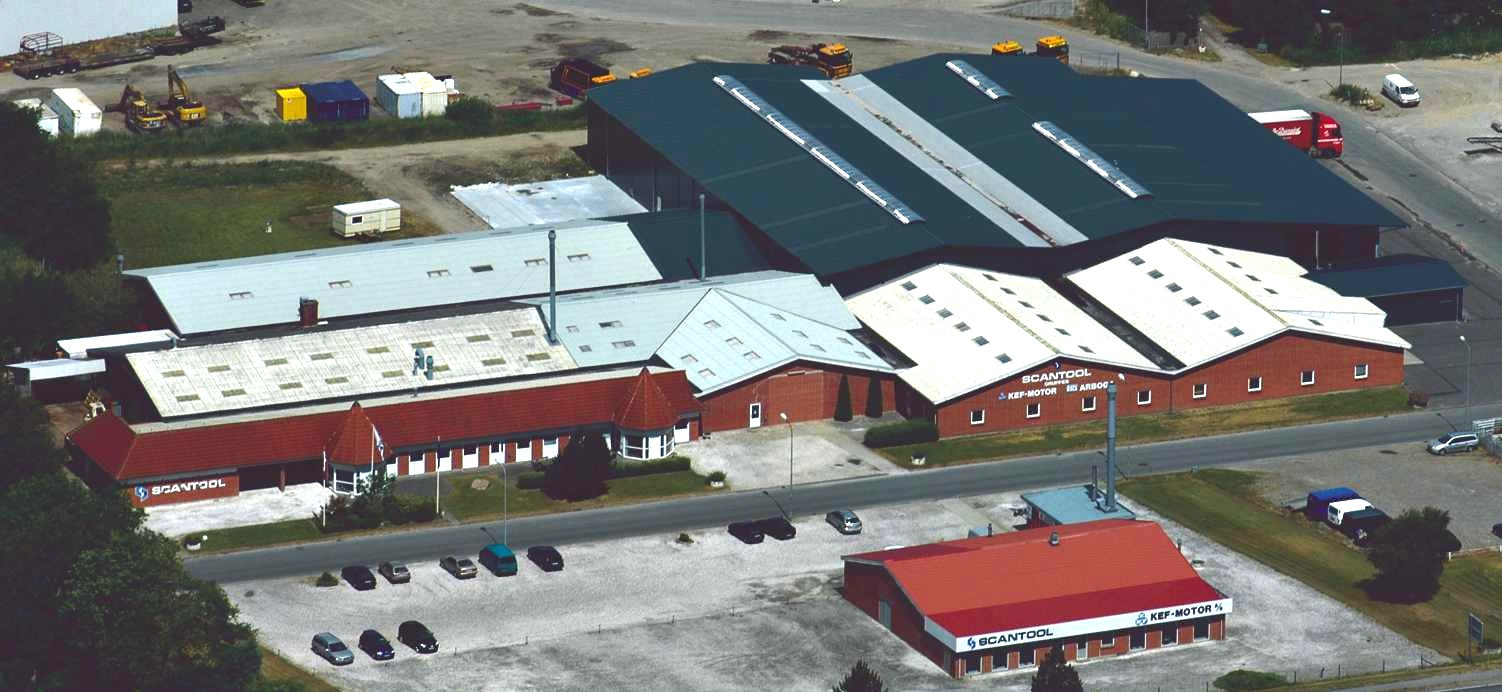 Scantool Group
Scantool Group is a Danish company, which develops, manufactures, and sells industrial machines within grinding, polishing, drilling and metal working. The company's headquarter and factory are situated in Brovst in the north of Jutland and there are 30 employees. We are among the leading manufacturers in Europe and export to 65 countries. Our products are developed and manufactured with a focus on functionality, safety, high quality, and not least great service.

A genuine business adventure
The company was founded by Jens-Martin Nielsen in 1980, where it was named Scantool A/S. After many years of employment and experience from the company THRIGE-TITAN and then KEF-Motor A/S, he developed the wet stone grinder Scanslib 200 at his family's former grocery store on Oeland in the north of Jutland. Scanslib 200 became a great success both national and international. It was especially a success in Japan, since Scantool A/S managed to sell more than 70.000 grinding machines during a period of 8 years. Furthermore, it led to the "Prince Henrik's and Danish Work's Export Gold Medal" in 1990. After the development of Scanslib 200, the company developed a series of other products including our iconic industrial belt grinder Scantool 75. This became the start of a genuine business adventure and an incredibly strong family togetherness.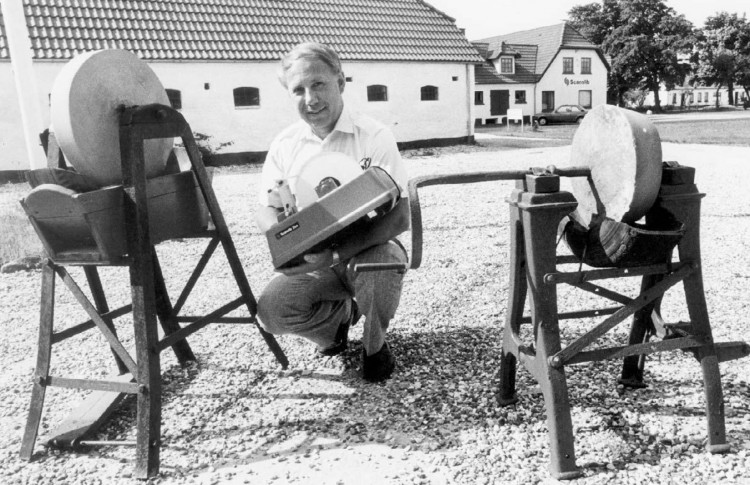 The company's founder Jens-Martin Nielsen with his wet stone grinder Scanslib 200.
Acquisition of the best players within the industry
The company grew bigger and bigger in the following years. Firstly, with the purchase of the company KEF-Motor A/S in 1987 and then with the acquisition of the Swedish company Arboga A/S in 1990. Furthermore, Scantool A/S purchased the companies H.M. Machinery A/S and H.M. Teknik A/S in 2005, which became HM Machinery A/S after the acquisition.
KEF-Motor, formerly known as Københavns Elektromotor Fabrik, has existed since 1910. The company is known for its high-quality products within grinding, polishing and engines. The company Arboga started in 1923 and has always been known as a high-quality Swedish manufacturer of geared head drill presses, industrial grinders and polishing machines. H.M. Machinery started in Thisted in 1968 and is known for its production of high-quality metal working machines and geared head drill presses.
Scantool Group was founded in 2007 and consists of the five well consolidated companies Scantool A/S, Arboga A/S, KEF-Motor A/S, HM Machinery A/S and Scantool Group ApS. By purchasing these companies Scantool Group has become a strong organization with more than 110 years knowledge, experience, and expertise. We can offer a large variety of high-quality products within grinding, polishing, drilling and metal working.
A strong family togetherness
The company has been through a great development since 1980 – from the startup at the family's former grocery store to the production at the factory in Brovst. From the first order of Scanslib 200 and until today, where we export our products all around the world. None of this could have happened if it wasn't for Jens-Martin Nielsen's family. His wife, children and children-in-law have all played a huge part within the company and its activities. Today, the company is still led by the closest relatives in the family, and they continue their father's ambitions and life's work.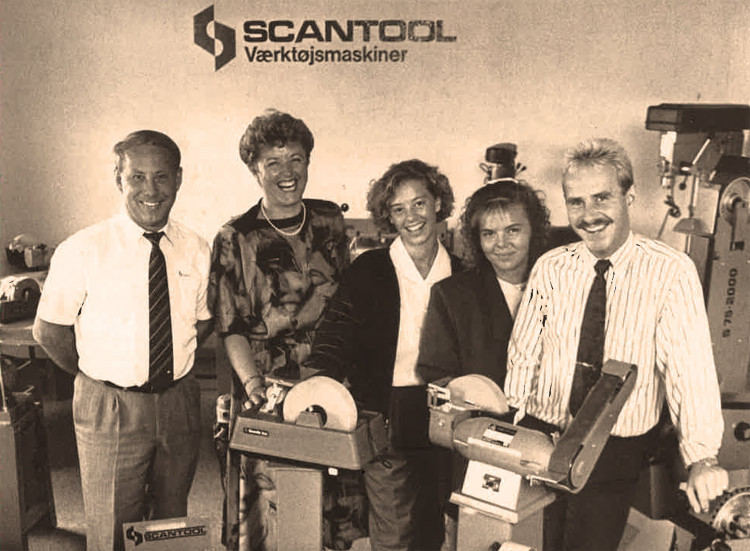 The company's founder Jens-Martin Nielsen with his wife Ingrid
and their children Susanne, Majbritt and Claus in 1992.
Our culture and values
The culture and values within the company are still characterized by the same culture and values, which Jens-Martin Nielsen and his family started back in the day. The strong family togetherness within the nearest family has branched out into the entire company. The culture among the direction, administration and production is familial and down to earth. Most of our employees have many years of seniority, and a lot of former employees regularly stops by for a little chat. We have a flat organizational structure and a low hierarchy – there is not far from idea to action. We are very committed and work together towards the same goal: To ensure satisfied customers.